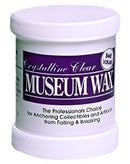 Description
Crystalline Clear Museum wax is a blend of Microcrystalline waxes that protect your valuable collections from bumps and earthquakes. It is non acidic, non toxic and reversable. 
It is primarily for use on sealed wooden shelving as it protects the wood as well as the securing items to it. Can be used with porcelain, crystal, glass, ceramic, marble and wood finishes. It also performs well as a temporary "glue" to hold items in place, while being cleaned, repaired or photographed.
Not recommended for use on porous surfaces as a waxy residue may remain on removal.
NOTE: This wax is used on items not moved often. Use The Museum Putty - QuakeHold for a less permanent hold.

There are detailed instructions for use in each pot. 
Resources
Quakehold products are stoked by retailers around New Zealand.