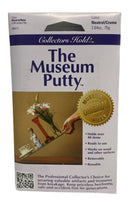 Description
Collectors Hold Museum Putty is the professional collectors choice for securing valuable artifacts and treasures from breakage. 
Excellent for securing Glass, Crystal, Heirlooms, Vases, Figurines, Antiques, Collector Plates, Anchors pictures and electronics and more. 
One packet can secure up to 40 objects.
NOTE: Each pack comes with detailed instructions for use. Please follow these when securing your objects (always advised to patch test first) and keep for when you wish to remove the item. There is a specific way to remove the putty after use.
Resources
QuakeHold products are stoked by retailers around New Zealand.