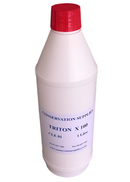 Description
A mild, non-ionic surfactant, it can also be used as a detergent and it is considered 100% "active" and biodegradable in liquid form.
Can be used as an emulsifier, wetting agent and mild detergent
Soluble in water, generally used as a 1% solution or less for the washing of textiles, paper, museum objects. Use a 2-3% solution to remove grime from paintings and to clean masonry.
It is an effective desizing agent and assists oxalic acid in the removal of rust. Compatible with certain bleaches. Safe for cotton, rayon, nylon acetate, polyester and blends. Test on wool and linens.
Available in 2 sizes - 250ml and 1L.
Resources
Triton X-100 Information Sheet
Soluble in water, ethyl & isopropyl alcohol, toluene, xylene and most chlorinated solvents.
Chemical formula: C14H22O(C2H4O)n