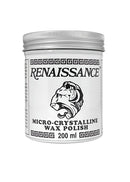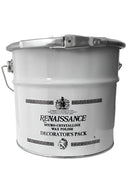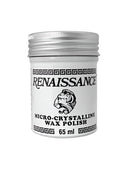 Description
Renaissance™ wax polish was originally formulated in the British Museum research laboratories in the early 1950's. It is now universally accepted as a standard conservation product by museums worldwide.
Renaissance™ wax polish is used to protect metals such as silver, brass and copper from tarnishing, on collections of all types of metals (old coins, locks and keys, arms and armour both original and replica), on both the wood and metal surfaces of vintage cars and musical instruments, on bronze sculptures inside the home and outside exposed to the elements, on marble and granite worktops to prevent staining and on smooth leather items.  Its unique qualities make it ideal for protecting all surfaces from environmental attack or handling.
When thinly applied and rubbed out to full lustre, the wax film is (and remains) glass-clear, with no discoloration either of the wax or the underlying surface. Renaissance wax is free from acids (pH neutral) and will not damage even sensitive materials.
Please note:  We advise doing a test on a small, discreet area to ensure that the wax is suitable for use on that object. The number of coats of wax needed to protect the item will vary depending on the type of surface, how frequently it is touched and the location. These factors will also determine the frequency of further maintenance required. 
Available  in 3 sizes.
Specs:
Renaissance wax polish – 3-litre can
For the trade user, this size contains approximately 15 of the 200ml size cans in wax volume, at a much more cost-effective price for large-scale usage.
Renaiance wax polish - 200ml can
The standard size - for use in the home. 
Renaissance wax polish – 65ml can
Trial or gift size – an exact miniature replica of the 200ml can. Ideal for trails or the craftsman who wants to give a gift to his customer with commissioned work as an after-sales service.