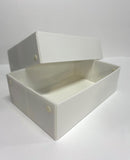 Description
Cost effective, 2 piece boxes for storage of any number of items.

Made from 3.3mm White Fluted Polypropylene. This material is acid-free, will not support moulds, is unaffected by moisture and is virtually indestructible.
Safe for long term storage. 
Assembled using plastic rivets which are supplied.
Available in 2 sizes - Small and Large.
Boxes can be assembled using a Bone Folder
Boxes are sent flat packed. Please note that we cannot accept them as a return if they have been assembled. 
Specs
Size: Small
Internal dimensions (L x W x D): 392 x 260 x 123mm

Size: Large
Internal dimensions (L x W x D): 600 x 380 x 100mm