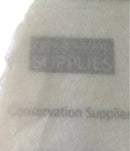 Description
Traditional Kozo paper, handmade in Japan. Its name comes from the mulberry plant from which the Kozo fibre is taken.
Lightweight and soft, it is strong, very versatile and pleasant to use. In addition to its conservation uses, this paper is excellent for hinging, printing or printmaking.
Comes in 2 weights - 16gsm and 25gsm.
NOTE: We loosley fold these sheets when packing to send via courier. Please let us know if you require them to be sent flat. 
Specs
Weight: 16gsm TSU08
Sheet size: 490 x 640
pH 8.2
Please note: tissue is cut from a larger sheet so one of its edges is a straight cut.
Weight: 25gsm TSU09
Sheet size: 540 x 750
pH 7.8
pH value Tested in accordance with the Japan Industrial Standard (JIS)P-8133 Cold Water Extraction Method