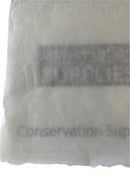 Description
 Hand-made Japanese tissue made from the fibres of the Gampi tree.
These tissues are very thin - almost transparent. They have excellent wet strength. They feature long fibres with a lustrous surface.

Useful for mending and conserving works of art on paper.

Comes in 2 weights - 14gsm or 21gsm.
NOTE: We loosley fold these sheets when packing to send via courier. Please let us know if you require them to be sent flat. 
Specs
Weight:
14gsm TSU07 
21gsm TSU06

Sheet Size: 440 x 550mm
pH 6.4
pH value tested in accordance with the Japan Industrial Standard (JIS)P-8133 Cold Water Extraction Method