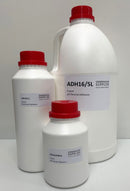 Description
Designed specifically for the conservation industry. Specially formulated to give good bonding to paper, paper board products and textiles. The characteristics of this co-polymer molecule is that it includes significantly less of the acid-forming polyvinyl acetate, and more of the polyethylene; it thus does not form acid in either of its wet or dry state. The molecule is made flexible by the presence of the long polyethylene co-polymer molecule. Free of plasticisers, flexible film.
Shelf life 3 years. Do not refrigerate. May need occasional stirring. Decant as required to prevent contamination.
Available in 3 sizes - 500ml, 1L and 5L.
Specs
Archival Ethylene Vinyl Acetate (EVA) co-polymer.
pH Neutral, buffered to pH range 7-8.
Passes the Photographic Activity Test.
Resources
Simple to use – apply with a brush or roller. Slowly reverts to white emulsion form upon contact with water. Medium setting time – this controlled drying permits a reduction in the warping or buckling of water-sensitive substrates. May be diluted with water, or mixed with other adhesives such as starch paste or methyl cellulose, to the proportion of 10-15%, without significant loss to the initial EVA tack.