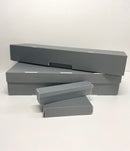 Description
Can't find a box the right size? We will work with you to design a custom box to suit your needs.
Custom boxes can be made from the following materials:

Contact us with your required internal or external dimensions (Length x Width x Depth) and preferred material, and we will send you a quote.
Custom made boxes will be manufactured based on your confirmed dimensions. The boxes are sent flat packed. Please note that we cannot accept custom made boxes as a return.