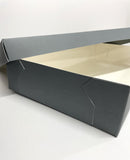 Description
This extra large archival box is ideal for storing textiles, costumes and wedding dresses with lots of fabric. Also ideal for large documents, prints and paper cuttings.

Silks, old lace, and other textiles need archival protection or they will yellow and deteriorate over time. The same goes for fragile documents prints and paper. 
This costume box passes the Photographic Activity Test (P.A.T), is acid free, lignin free and is coated with a light grey coloured laminate on the outside. This laminate is abrasion, dirt and grease resistant.
We recommend our high quality Unbuffered Acid Free Silk Tissue for wrapping natural fibres when using this box. This is available in 5 meter rolls which is perfect to pair with this box. 
If you are storing prints and documents the Buffered Acid Free Tissue is a good choice. 
Boxes are sent flat packed and can be assembled using a Bone Folder
Please note that we cannot accept them as a return if they have been assembled. 
Specs
Internal dimensions (L x W x D): 932 x 452 x 142mm
External dimensions (L x W x D): 950 x 460 x 148mm
Lid depth: 80mm
Base is made from 1300 micron Archival Boxboard.
Lid is made from 1000 micron Archival Boxboard.
Resources 
Take a look at this video for advice on storing your wedding gown and other garments.
Unbuffered Tissue is recommended for storing textiles. It is available in sheets and rolls.