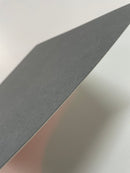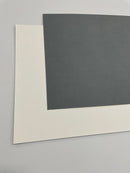 Description
Archival, acid-free, lignin-free board with a tough grey dirt, grease and abrasion resistant laminate on one side. A smooth white laminate on the other.
Alkyl ketene size, free from optical brightening agents, with a pH 7.6 to 8.0. Buffered with calcium carbonate.
Ideal for box making, folders and medium sized phase boxes.
Passes the Photographic Activity Test (P.A.T).
Available in 3 weights - 650 micron, 1000 micron and 1300 micron.
Specs
Sheet Size: 1016 x 1473mm
Colour: Grey on outside, white on inside.